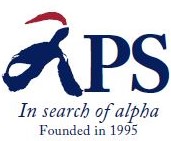 Language

Home
> About Us > Notes from the CIO
Notes from the CIO


APS' Founder and CIO, Wong Kok Hoi, explains investment decisions and other developments that affect APS' investors whenever appropriate. The issues he discusses range from portfolio performance to sector analysis.
Synopses of the Notes from the CIO are presented here, as well as links to the full documents.
SYNOPSES OF NOTES FROM THE CIO
17 MAY 2017
JD.com: Tulips, Anyone?
JD has been the darling of the investment community for the past year. In this CIO Note, we
analyze
JD's business model and address 2 key issues: 1) whether JD will be able to make a relevant annual profit to justify its $55 bn market cap and 2) whether it will be the Amazon of China.
Download the full paper
here
.
For your protection, please do not share any confidential information, personal data or provide transactional instructions in your enquiries or feedback. APS does not accept and act on orders or instructions sent by e-mail
Copyright © 2009-2016, APS Asset Management Pte. Ltd. Company Registration Number; 1980-00835-G. All rights reserved