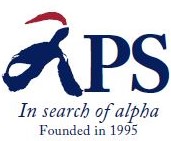 Language

Home
> About Us > APS in 2 Minutes
Consistency, consistency, consistency
---
APS Asset Management was founded in 1995 by its CIO, Wong Kok Hoi, in Singapore. The firm, one of the pioneer homegrown boutiques, has grown significantly since: It started with assets under management of about USD15 million, which has since grown to USD2.6 billion as at end-December 2018; APS started with 7 staff and 1 office, which has expanded to 62 staff and 6 offices worldwide as at end-December 2018.
The core values and vision of APS hasn't changed, though. Mr Wong founded APS to 1) serve global institutional asset owners; 2) specialize in Asian investments; and 3) employ investigative research and independent thinking in the investment process. All three foundations have remained constant throughout APS' history.
Today, nearly 80% of our AUM are from pensions, endowments and foundations and the rest are from family offices, financial institutions, sovereign wealth funds, corporates and high-networth individuals.
For your protection, please do not share any confidential information, personal data or provide transactional instructions in your enquiries or feedback. APS does not accept and act on orders or instructions sent by e-mail
Copyright © 2009-2016, APS Asset Management Pte. Ltd. Company Registration Number; 1980-00835-G. All rights reserved