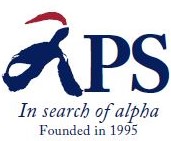 Language

The APS Japan Alpha Fund is one of the five funds under the APS Fund, an umbrella Unit Trust constituted by a Trust Deed governed by the laws of Ireland authorised by the Authority. The other funds under the Trust are the APS Far East Alpha Fund and APS Vietnam Alpha Fund.
Investment Objective
To seek medium to long term capital growth by investing in stocks of companies listed in Japan.
Fund Structure / Domicile
UCITS Unit Trust / Dublin, Ireland
Inception Date
1st July 2000*
Fees
Class A: 0.75% Management Fee, 15% Performance Fee
Class B & C: 1.5% Management Fee, 0% Performance Fee
Preliminary Charge
Up to 5%
Repurchase Charge
Up to 3%
Fund Base Currency
USD
Benchmark
Topix First Section
Minimum Initial Investment
Class A: USD 100,000
Class B: USD 1,000
Class C: € 1,000
Dealing Deadline / Frequency
5 pm (Irish Time) daily on business day immediately preceding the relevant dealing day
Manager & Administrator
Northern Trust
Auditor
Deloitte & Touche
Investment Manager
APS Asset Management Pte Ltd
*Note that the fund was transferred from the Cayman Islands to Dublin, Ireland in February 2002.
Please click
here
for the latest factsheet.