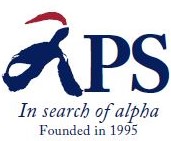 Language

Home
> About Us > What Makes APS Different
Investigative research, bold ideas, prudent execution
APS' investment decisions are predicated on investigative research and independent thinking. Our company research includes interviews with suppliers, competitors, peers, customers, former employees, industry specialists, management, employees and other relevant stakeholders. Our analysts walk the ground, visit facilities, test the products where possible and read the fine print.
This process gives APS sufficient knowledge to make and, importantly, maintain high-conviction decisions even when the market temporarily runs against our contrarian stock selections for years at a stretch. Knowing each stock inside-out also allows us to revise our investment theses when circumstances change, to effectively value a stock and to set valuation targets.
Corporate: Boutique In Mind Set, Institutional In Infrastructure
APS is a boutique in the sense of being specialized, having skin in the game alongside investors and being agile, decisive and bold. Our corporate infrastructure has the depth and breadth expected of a firm serving global institutional asset owners. We have fully staffed, in-house teams for investment, risk management, compliance, trading, investment administration, client services, marketing, sales and corporate functions. For a full description of the key functions, please visit
About Us/Corporate Infrastructure
.
Presence On The Ground: 6 Offices Worldwide
APS' headquarters is in Singapore; there are 3 research offices in Shanghai, Beijing and Shenzhen; an office in Tokyo; and a representative office in New York.